IPPC Financial Committee (FC)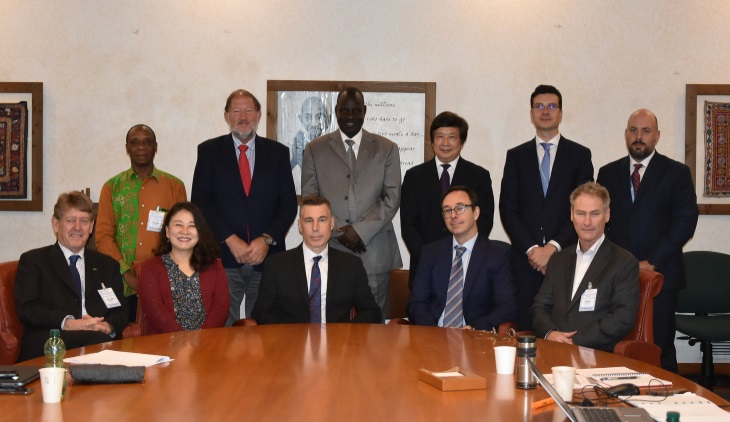 The IPPC Financial Committee ("FC") consists of four members selected by, and including at least one member of, the CPM Bureau. The FC meets at least once per year, preferably back-to-back with a Bureau meeting. Additional meetings may be agreed by the FC in consultation with the CPM Bureau and the IPPC Secretariat. The FC meetings can be convened virtually (e.g. video conference).
The FC is established by CPM in the framework of the IPPC Resource Mobilization Strategy. It provides advice on financial matters and resource mobilization issues to the CPM Bureau and the IPPC Secretariat, as specifically described in the Terms of Reference approved by CPM-7 (2012).
| Title | Files | Publication date |
| --- | --- | --- |
| Report - IPPC Financial Committee meeting, 2016-04 | En | 02 May 2016 |
| Report - IPPC Financial Committee meeting, 2014-10 | En | 01 Dec 2014 |
| Report - IPPC Financial Committee meeting, 2018-10 | En | 20 Nov 2018 |
| Report - IPPC Financial Committee meeting, 2016-06 | En | 29 Jul 2016 |
| Report - IPPC Financial Committee meeting, 2017-10 | En | 27 Nov 2017 |
| Report - IPPC Financial Committee meeting, 2014-10 | En | 10 Mar 2015 |
| Report - IPPC Financial Committee meeting, 2013-06 | En | 01 Oct 2013 |
| Report - IPPC Financial Committee meeting, 2017-04 | En | 03 May 2017 |
| Report - IPPC Financial Committee meeting, 2018-04 | En | 15 May 2018 |
| Report - IPPC Financial Committee meeting, 2014-03 | En | 09 Jun 2014 |
| Report - IPPC Financial Committee meeting, 2019-10 | En | 14 Nov 2019 |
| Report - IPPC Financial Committee meeting, 2013-04 | En | 24 May 2013 |
| Report - IPPC Financial Committee meeting, 2017-06 | En | 11 Jul 2017 |
| Report - IPPC Financial Committee meeting, 2015-03 | En | 04 May 2015 |
| Report - IPPC Financial Committee meeting, 2016-10 | En | 24 Oct 2016 |
| Report - IPPC Financial Committee meeting, 2013-10 | En | 24 Mar 2014 |
| Report - IPPC Financial Committee meeting, 2015-06 | En | 10 Jul 2015 |
| Report- IPPC Financial Committee meeting, 2020-10 | En | |
| Report- IPPC Financial Committee meeting, 2020-10 | En | 27 Oct 2020 |
| Financial Committee Membership list (2018-04) | En | 03 May 2018 |
| Report - IPPC Financial Committee meeting, 2018-06 | En | 11 Jul 2018 |
| Report - IPPC Financial Committee meeting, 2021-12 | En | 23 Feb 2021 |
| Report - IPPC Financial Committee meeting, 2021-03 | En | 28 Apr 2021 |
| Report - IPPC Financial Committee meeting, 2019-06 | En | 06 Aug 2019 |
| Report - IPPC Financial Committee meeting, 2019-03 | En | 28 May 2019 |
| Report - IPPC Financial Committee meeting, 2012-10 | En | 30 Oct 2012 |
| Report - IPPC Financial Committee meeting, 2015-10 | En | 28 Oct 2015 |
| Report - IPPC Financial Committee meeting, 2021-11 | En | 24 Jan 2022 |
| Report - IPPC Financial Committee meeting, 2014-06 | En | 08 Sep 2014 |