IPPC Procedure Manual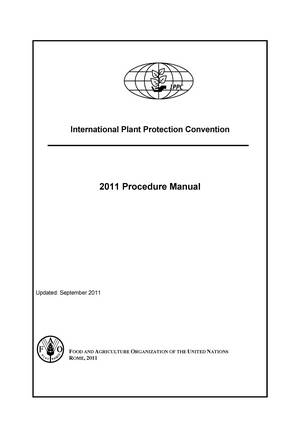 The purpose of this manual is to provide in a convenient form the decisions, procedures and practices of the Commission on Phytosanitary Measures (CPM), its subsidiary bodies, and other relevant drafting groups. This edition of the manual includes decisions and procedures made up to and including the Sixth Session of the Commission (CPM-6 (2011)) and the November 2010 and May 2011 meeting of the Standards Committee (SC). The decisions and procedures described herein are subject to amendment by future Commission sessions. The manual will be revised regularly to include any new decisions and procedures and to amend existing decisions and procedures as necessary.
For the purpose of clarity, all official text, including resolutions of the FAO Conference and decisions of the Interim Commission on Phytosanitary Measures (ICPM) and the Commission on Phytosanitary Measures, are in the black font. Some procedures and decision of the Commission Bureau and Standards Committee are also are in the black font, with details of their source. Text that is in the blue font is for explanatory purposes only and should not be considered to be official decisions.
The table of contents contains hyperlinks to help navigation in the electronic version of this document.